Keeping contracts and their related documents in a hard copy format, hidden away in filing cabinets or lying around on the desks has long meant trouble for businesses.
Moving them to a digital format has been a natural step for companies both large and small, with many making Excel spreadsheets their choice of software.
Spreadsheets are familiar, accessible and require minimal training for users across the business. Contract information can be easily captured, especially if a business has the time and resources to dedicate to manual input.
Spreadsheets are a great starting point for businesses that need to collate contract metadata. But as businesses grow with more contract agreements being generated, spreadsheets can quickly become unwieldy if there are no best practices in place.
In this article, we take a look at the best ways to use Excel for contract management, some of the risks your business may be exposed to and how you can counteract some of limitations of using this software.
To help you get the most out of your spreadsheets, and support you in your contract management practices, we've created a number of free Excel contract management templates. You can download them below.
Three things to prioritise when managing contracts in Excel

1. Capture complete information
Managing contracts through Excel is a manual process by nature meaning time and diligence are required to ensure your business is capturing the correct and complete information.
It's important that you understand your contracts fully so you can always fulfil your obligations and know what to expect from your vendors."

To help you do this, you should identify and prioritise the key fields or columns that require filling out.
Some information such as owner and dates (which we will discuss next) will be mandatory, but some additional fields are likely to be added based on the type of contract it is. Fields and columns can include:
Contract number
Contract title
Internal departments and/or owner
External owner and contact
Contract type
Capturing this type of information will help to assign roles and responsibilities, prevent instances of miscommunication and allow businesses to take relevant actions ahead of time.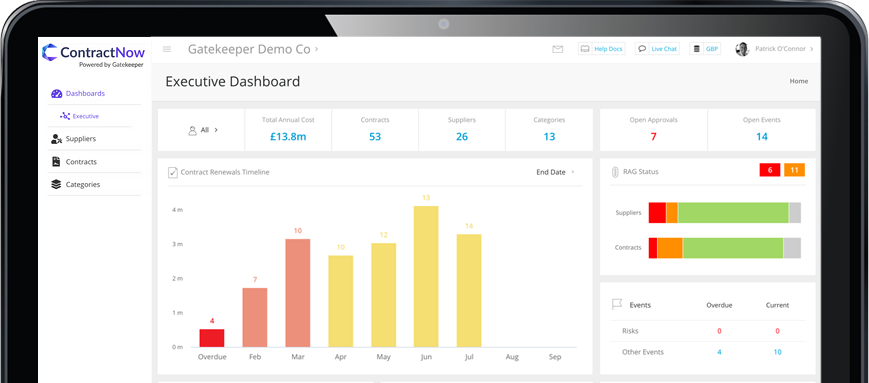 ContractNow's Executive Dashboard
2. Build your spreadsheet around key dates
Knowing your dates is arguably one of the most important aspects of effective contract management.
Being able to easily identify when a contract is coming up for renewal, as well as being aware of its notice period, is one of the most valuable ways your business can prevent delinquent spend and keep control of its vendor portfolio.
Make sure you capture:
Today's date using the formula =today()
Renewal date
Termination date
By starting with the current date, you can easily track how long is left until a specific contract milestone is reached."

You can create rules for different columns so that cell colour changes based on how near the date is. For example, if a contract is due to expire in 30 days or less, you can set a rule to change the colour to red. This will help you to easily identify the contracts that need your immediate attention.
3. Keep your data secure
Spreadsheets can be easily edited by whoever has access to them, so it's important to minimise any changes that can be made without your permission. If this isn't done, you risk working from inaccurate, out-of-date and incomplete information.
You can define who has access to your spreadsheet by protecting the workbook with a password. Only share this with people throughout your organisation who require edit access to the document.
You can define data that can be entered into specific fields, ensuring that data entry is consistent, easy to monitor and can be filtered in the most accurate way.
This will also limit the types of changes that can be made to the spreadsheet and will help to prevent the loss of essential information.
Finally, you must consider how secure your practices are for file sharing.
How likely is it that your spreadsheet could be shared outside of the business? Is it likely to get trapped in a shared drive or an inbox, encouraging people across the business to make a new version and fragment the data?"

Version control is critical and so your system for sharing and storing the spreadsheet needs to be robust. Excel works as a great starting point for secure contract management practices.
If your business is starting to introduce spreadsheets, or needs to get more out of its existing documentation, these 13 templates were made with you in mind. You can download them in a single document, completely free.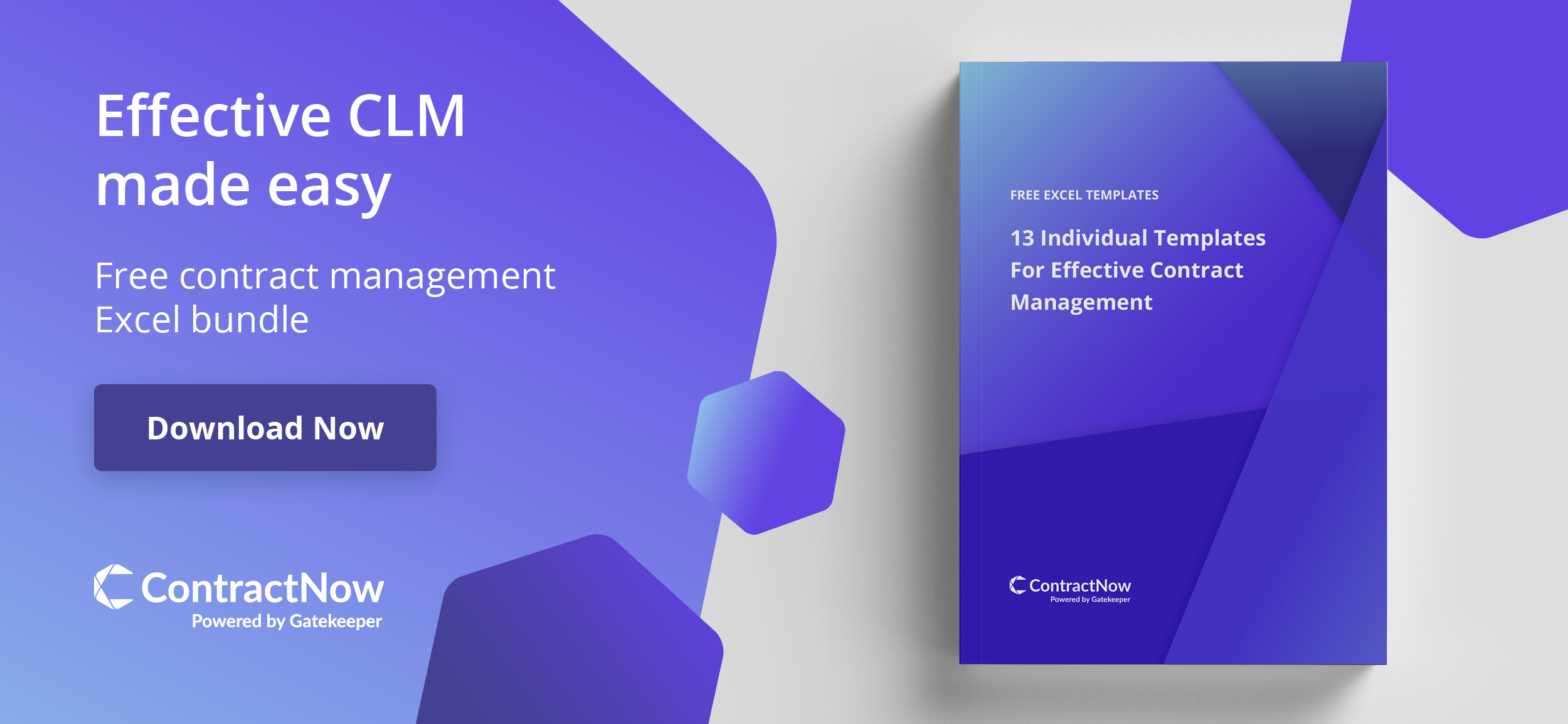 Why you should reconsider using Excel for ongoing contract management

Manual entry, keeping up with dates and keeping your data secure are all time consuming tasks when it comes to using spreadsheets for contract management.
Although the software is easy-to-use, familiar and accessible to most users, using Excel comes with inevitable risks."

As your business grows and you try to grow your spreadsheets alongside it, the time spent on contract administration will only increase. At worst, updating the information will become a task that ends up on the back burner.
At the mercy of busy employees who have other objectives to focus on, the use of unwieldy spreadsheets can contribute to data fragmentation and lead to larger issues including:
An inability to see the contract portfolio through a single pane of glass
A lack of shared knowledge and ability to collaborate across the organisation
Contracts auto-renewing because key dates haven't been captured
Business decisions being made from inaccurate information
Data breaches contributing to instances of non-compliance
Inability to find crucial information quickly and easily
Businesses that are aware of these issues often try to counteract them by inadvertently electing and leaning on a sole custodian of the spreadsheet.
This, however, can lead to a single point of failure throughout the business if that employee is on vacation, moves departments or leaves the business altogether.
Knowledge kept in the mind of one individual equates to undetected financial, regulatory and reputational risk.

That's why implementing dedicated contract management software should be considered as a step up from the foundations that Excel spreadsheets lay.
Being able to automate your processes, centralise your contracts and securely store your data - all while being able to say goodbye to data fragmentation and contract administration - is a real win for businesses of any size.
If you want to discuss your contract management processes, and you're ready to move beyond the templates we've offered, contact us to see how ContractNow can help your business.