A growing contract portfolio can be difficult to monitor if you don't have the right people, processes and technology in place. When contract monitoring is manual, fragmented and not treated as a priority, businesses can be left vulnerable to contract risks.
In this article, we take a look at what contract monitoring is, why it should be an ongoing activity and how to overcome barriers that may prevent it.
What is contract monitoring?
Diligent contract monitoring is a process carried out by businesses to ensure contracts perform as expected and the agreed benefits are realised. Businesses that prioritise this process not only achieve better contract outcomes, but do so proactively and compliantly.
Contract monitoring, or contract tracking, processes include:
Tracking key dates such as end dates and renewals
Identifying risks and making relevant stakeholders aware
Reviewing contract performance against agreed obligations & outcomes
Contract Monitoring Best Practices for 2023


1. Centralise and share key information to improve contract monitoring
If your business is growing at pace, using manual processes such as spreadsheets to track contract data or relies on a single guardian of knowledge to provide the information you need, you'll soon find it difficult to track key information for every contract within your business.
Growing data can become cumbersome, manual processes naturally lead to fragmentation and the 'guardian of internal knowledge' could leave the business without a thorough handover in place.
Any of these scenarios can leave businesses vulnerable to contract risk including contracts that auto-renew, compliance documents that pass their expiry date and poor performance being undetected.
Centralising contracts in a secure repository provides a single and secure location that hosts all information crucial to accurate monitoring."

Using a centralised repository makes contract monitoring easier as access can be given to relevant stakeholders and this single source of truth means they can have confidence in the data they are working with. Using a contract repository eliminates the risks of data fragmentation, duplication and vulnerabilities.
ContractNow offers a cloud-based central repository that scales alongside your business. You can store unlimited contracts and documents, so business growth doesn't impede your teams' awareness of events happening in each contract's lifecycle. See everything in one place, including a complete history of any changes made at the contract or metadata level.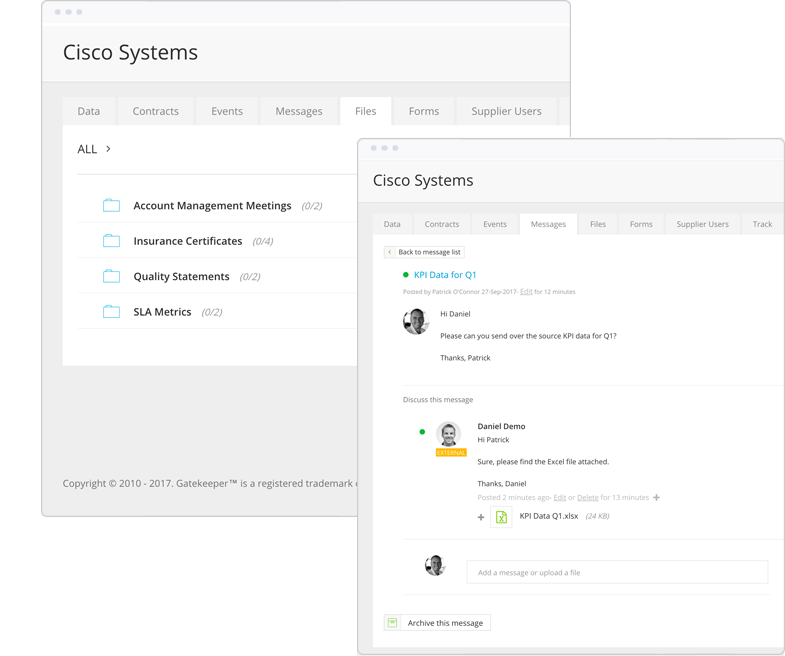 See everything in one place with ContractNow's central repository
2. Assign ownership, prioritise contract reviews and alert stakeholders
Contract monitoring is proactive by nature, while contract management is collaborative. Successfully tracking contracts - whether it's their progress through the lifecycle or the fulfilment of obligations - cannot be an isolated, passive task. But as your business grows and teams have their attention pulled elsewhere, contract monitoring may be at risk of becoming deprioritised.
Assigning contract ownership means someone is always accountable for managing risks and improving overall outcomes."

Accountability for contract monitoring will encourage owners to complete periodic and regular contract reviews. ContractNow reinforces this accountability by sending automated reminders to owners when a contract review is due, reducing the likelihood that contract monitoring gets forgotten about - as is possible when owners rely on setting their own calendar notifications.
Manual effort is eliminated as ContractNow's AI Extract engine automatically captures key information and allows triggers to be set around these. This makes event tracking and renewals management much easier, alleviating the administrative burden associated with contract monitoring.
When relevant parties are alerted ahead of time, proactive management can take place. Whether it's negotiating for better terms ahead of renewal, mitigating risks such as non-compliance or simply knowing that contracts are on track to provide agreed benefits, contract monitoring and collaboration around important events becomes seamless.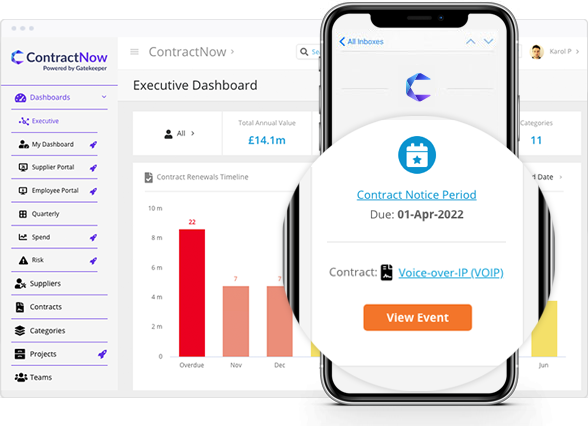 Alert stakeholders to upcoming events and automate monitoring
3. Create risk mitigation plans
Depending on the results of your contract review, and the information or milestones you are tracking, it may be that your team needs to take action. Ongoing contract monitoring can be a preventative measure for contract risk, but you will need risk mitigation plans if issues have already escalated.
Monitoring contracts for the sake of it won't improve outcomes. Monitor your portfolio, mitigate any risks and measure the results to get the best from your agreements.

Contract monitoring and risk mitigation go hand-in-hand, allowing contract owners to adopt proactive approaches to contract management. Centralising contracts, assigning ownership and sharing information with relevant stakeholders unlocks benefits including:
Early identification of risks and necessary resolutions or escalations
The ability to drive corrective action to improve contract performance
Confidence around compliance and eliminating financial or legal penalties
Contracts delivering agreed outcomes and minimised risk of auto-renewals.
ContractNow offers an Executive Dashboard, Reporting Capabilities and an Integrated Messaging Suite allowing stakeholders to visualise potential risk, share information easily and collaborate on risk mitigation all from one platform.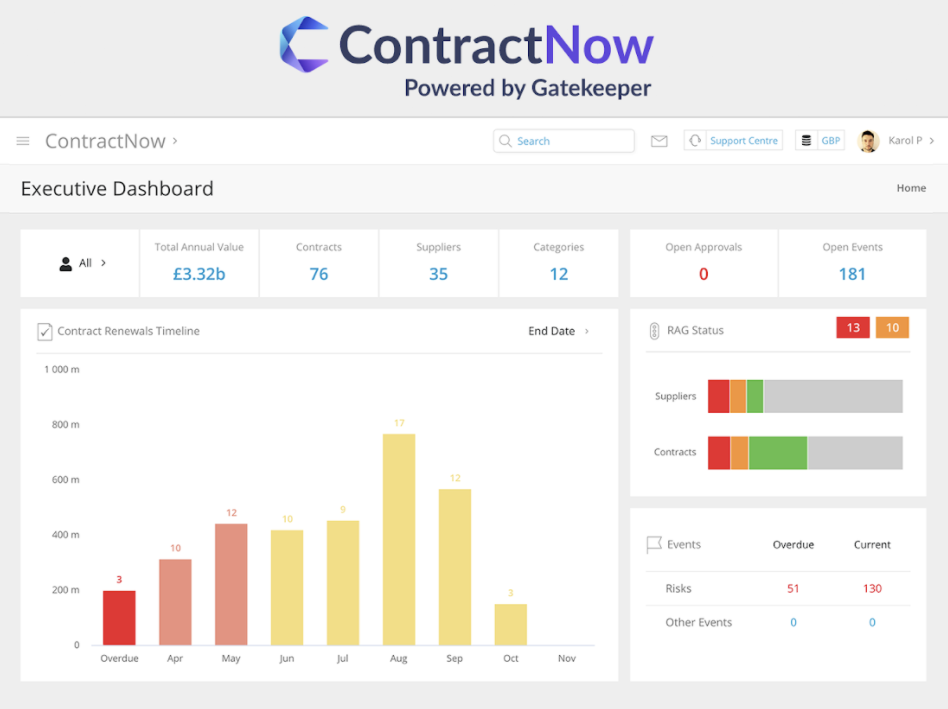 Easily identify risks with customisable dashboards in ContractNow
Wrap Up
Building a diligent contract monitoring plan allows business to hold teams accountable, drive collaboration and mitigate visible risks. By embedding this process deep into your organisation's approach to contract management outcomes can be improved, compliance can be achieved and the business can be protected from any negative penalties - financial, regulatory or reputational.
If manual management, fast growth or lack of visibility are preventing you from monitoring your portfolio, it may be time to consider implementing contract management software. ContractNow centralises your documents, scales with your business and automates manual processes.
If you're ready to improve your contract monitoring process, get in touch today.