Contract management is a series of essential activities to be applied to every stage of the contract lifecycle. Brought together and applied with best practice, they create an overall business process that can unlock competitive advantage. Effective contract management supports:
Fulfilment of all negotiated services and benefits
Elimination of duplicate and delinquent spend
Improved contract terms through strong negotiating positions
Improved contract renewal processes
Visibility of true supplier performance through clear auditing and reporting
Minimised contract risk such as from non-compliance
Reduced contract administration for your in-house teams
More often than not, the importance of contract management is underestimated throughout the business. By failing to prioritise this process, the full value contained within a contract is rarely obtained. This guide outlines how to apply contract management practices throughout each lifecycle stage and some common contracting errors to look out for.
How to apply the principles of Contract Lifecycle Management
Each contract within your business has a lifecycle comprising seven stages. Each stage requires its own management principles.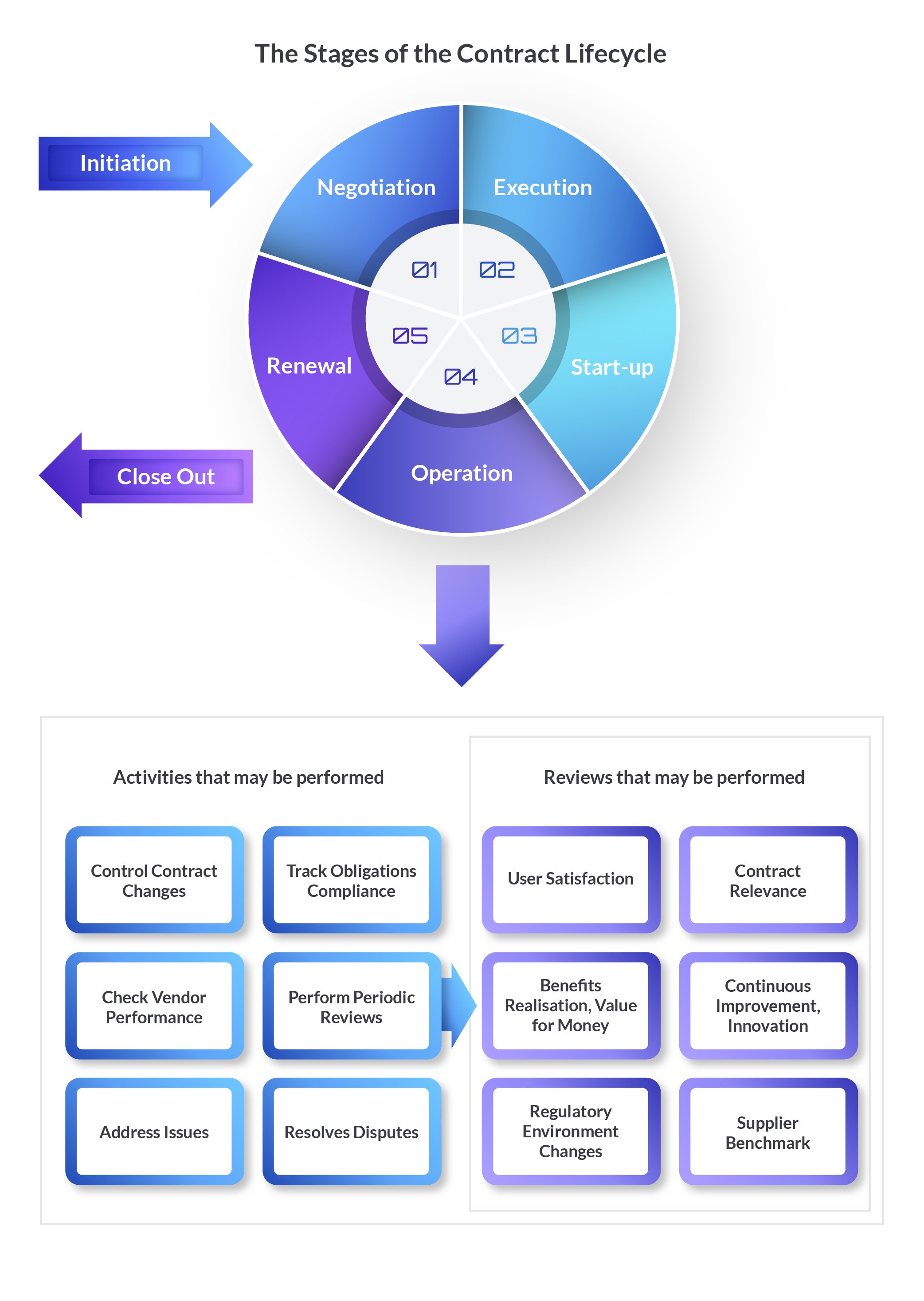 These activities can be broadly divided between pre- and post-signature but a granular approach should be taken at each lifecycle stage to maximise opportunities to create revenue, eliminate hidden costs and build long-lasting relationships with suppliers.
Let's take you through each of the seven stages – from initiation to close-out – so you can see what they are and what actions you should carry out.
Stage
When
Actions required
Why
Inception
The very first step - the requirement for a new product or provider has been identified
Capture requirements across the business Identify potential partners and their details

Agree who will sign-off
Failure to accurately record granular details could create complexities during the process and extend time to complete
Negotiation
Before terms such as costs have been formally agreed
Choose preferred supplier Issue a draft of the contract

Complete legal review
Both parties need to reach a mutually beneficial and achievable agreement with everyone's interests being protected
Execution
After any amends to the initial agreement have been finalised
Finalise documents along with a summary

Agree signature format (eg. eSignature)

Get relevant party to sign and return
All terms, changes and documents need to be agreed and shared with key stakeholders
Start-up
This takes place as soon as the contract has been signed and returned
Extract key contract metadata

Nurture
understanding of the contract at stakeholder level

Assign roles for the duration of the contract management process
If key contract metadata is overlooked, not extracted or inaccurately recorded, problems such as missed renewals and duplicate spend could occur down the line
Renewals
Long enough prior to the contract renewal date to allow for the full range of renewal activities to be completed.
Automate renewal processes

Set notifications about key dates

Assess alternative suppliers for capability and price
Acting ahead of contract renewals maximises opportunities to assess current value, minimise risk for overspend and to negotiate better terms
Monitoring
Occurs at regular, scheduled intervals based on what's written into the agreement
Use balanced scorecards to measure performance

Carry out regular reviews Manage any disputes
Monitoring ensures that all parties are complying with contractual obligations and terms are being fulfilled
Renewals
Long enough prior to the contract renewal date to allow for the full range of renewal activities to be completed
Automate renewal processes

Set notifications about key dates

Assess alternative suppliers for capability and price
Acting ahead of contract renewals maximises opportunities to assess current value, minimise risk for overspend and to negotiate better terms
Close-out/
Completion
When the business stops working with a contracted party
Record which KPIs were met and missed Assess any gaps and enter required information Archive the record for reference
Information can become important at any point, especially if compliance requirements change. Having the auditable, lasting record is vitally important

Contract Management Best practices
Now that you know what activities are required at a granular level, it's time to step back and take a look at general principles you should apply.

By doing this, you'll be able to maximise the value from each of your contracts.
Delegate and collaborate when it comes to workload
The successful alignment of people, processes and technology lays the foundation for effective contract management. A shared understanding and ongoing collaboration across every level of the organisation will ensure that everyone is brought into the process and the workload is shared.
If collaboration isn't prioritised, non-specialist workloads will start to burden your in-house teams.

This is a common experience for legal teams in particular who are often expected to bear the responsibility of review, documentation, tracking and compliance checks of individual contracts.

As volumes grow, inefficiencies and frustrations occur as your team is no longer spending their time on specialist areas.
The responsibility of these tasks should be shared in a logical way, with relevant parties being given secure access to the information they need. For this reason, contracts should be stored in a repository system and accessible from the cloud.
Automate your processes
The process of contract management isn't just a quick fix that's executed sporadically. The same approach and process should be applied to every contract – and that's where automating workflows can make a significant impact.

This will ensure consistencies in the way people work, especially if different teams contribute to the contract negotiation, monitoring or renewal.

It will also improve accuracy, reduce manual administration and prevent rogue actions, edits or decisions being made by employees.
Depending on the level of contract lifecycle maturity your business has, it may not be possible to fully automate your processes – if at all.
Some businesses are working from contracts that are kept in a filing cabinet while others are working from disparate Excel sheets – with the common experience being time consuming, manual work that only provides a snapshot of required information."
If this experience sounds familiar, then it's time to implement a cloud-based contract management software. While Excel can prove useful for basic contract recording, automation and workflow engines from dedicated solutions can give you a lot more control over your contracts – as well as your working day.
The formalisation of contract management processes – supported by an intuitive solution – will benefit your business even as the contracts in handles grows in volume and complexity.
Regularly review your contracts
Despite agreements being made and commitments to obligations being formally signed, it is never safe to assume that everything with a contract is running as it should be.

There are a lot of variables with the potential to impact on contract performance, so you should always be mindful of the contract risk that comes with it. Examples include:
Changes in regulation that nullify existing compliance certifications
Incomplete metadata contributing to a lack of visibility over key renewal dates
Unidentified poor supplier performance which breaches the terms of the contract
Reviewing your contracts from an overall performance point of view won't always be enough. You need to take a deep dive into all of the information that you have periodically identifying gaps in metadata and even gaps in the contracting process itself.
You can even ask teams to contribute feedback on how contracts could be managed more effectively – continuously promoting collaboration throughout the business.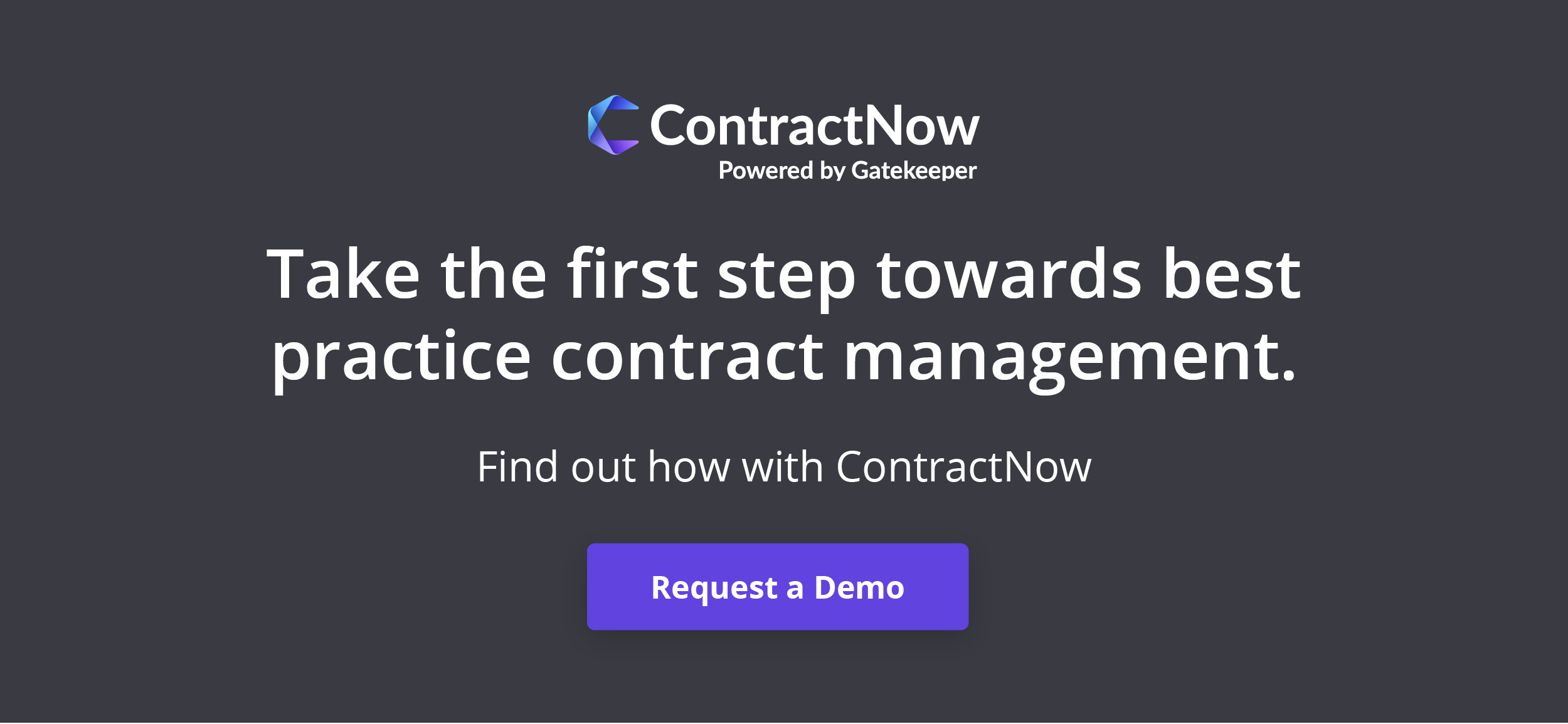 Contract management pitfalls
When people fail to follow contract management best practices in a consistent manner, it's very unlikely any business will unlock the full power of its technology and thus it will fail to unlock the true value of contracts.
A lack of alignment will inevitably lead to other easily avoidable pitfalls including:
Contract data being stored disparately, so an effective contract management strategy can never be wholly applied
An inability to monitor contracts end-to-end, causing vulnerabilities such as increased cost and business risk
Poor contract handovers when someone leaves the business, disrupting and potentially damaging relationships
Contracts being renewed without anyone noticing, potentially creating delinquent spend on services that are no longer required
A failure to understand contract obligations and risks due to a lack of basic due diligence such as contract auditing
Many of these pitfalls can be easily avoided by applying contract management best practices. This means laying out a granular process from end-to-end that needs to be followed consistently by everyone in the team."

Visualising the way your contracts help to keep your business running is an essential way to ensure milestones, performance targets and services are all being met and delivered.
Conclusion
Contract management is often overlooked, when really it should be considered as a vital business process that minimises risks, improves supplier relationships and creates financial opportunities for your business.
Every stage of the contract lifecycle is vitally important and requires a set of clear processes and activities to take place around it.
Understanding, alignment and discipline across the lifecycle of a contract – and amongst your team – will help your business to get the most value from contract management.

It will also enhance the future success of your business as you'll be able to make fully informed, data-driven decisions about contract performance, renewals and relationships.
If you want to know more about effective contract management or how a cloud-based solution can help you to align your people and your processes, request a demo ContractNow.