Tracking contract key dates, levels of risk and obligation fulfilment becomes an ongoing and necessary task whenever your business signs a new contract. If your businesses is using spreadsheets, emails, shared drives or even a combination of these in its contract management approach, it could find itself:
Spending too much time on administration
Vulnerable to hidden contract risks
Working with fragmented, duplicated or inaccurate data
Exposed to human error and security breaches
Missing renewals that negatively impact the bottom line
Fortunately, advancement in technology has provided us with a streamlined, end-to-end method for handling these processes. With contract management software, you will find out that it is a lot easier to navigate contract-related matters and effectively manage each stage of a contract's lifecycle.
But then, will just any contract management system cut it? With so many options on the market, you need to select a solution that works for every stakeholder in your organisation. In this article, we take a look at some of the most important features a contract management system offers and how they help to improve your internal processes.
So What Is A Good Contract Management System?
Choosing good contract management software can be very tricky if you don't know what is required across the entire organisation.
There are many systems out there, each boasting different features and advantages and so it's important to communicate with all stakeholders to understand the pitfalls of the current approach and what the perfect future state would be.
A good contract management system should at the very least:
Give you a centralised repository where all contracts and documents can be stored
Automatically notify stakeholders about upcoming key dates and events
Allow you to search and analyse clause data across your contract portfolio
Below, we have curated a list of questions you should ask contract management software providers before making a selection. These questions will prompt you to consider crucial features that contract management software must have to ensure your business can take back control of its contracts.
Eight Questions to ask about contract management software features
1. Does it provide a central repository for the storage of contracts?
A good contract management software will offer a centralised repository. Not only will centralisation allow your business to store its agreements more easily, it also provides complete visibility of your entire portfolio, whilst eliminating issues relating to duplication, fragmentation and inaccurate data.
A contract repository gives stakeholders a single source of truth, so all departments can make decisions and progress contracts based on the same, accurate information. Teams will no longer need to spend hours trying to locate contracts. Instead, they can quickly find what they need and invest their time in more strategic matters.
Not only does a central repository give your business quicker access to its agreements, it also stores important metadata. Key dates and clauses are no longer buried away in spreadsheets or filing systems.

Instead, they are easily accessible and provide insights into the current state of compliance across the contract portfolio. With this information at your fingertips, your business can identify and mitigate potential risks.
2. Does the system include a contextual search feature?
A good contract management software will further enhance a centralised repository with a contextual search feature.
Manually searching through hundreds of contract records to locate a particular one, or reading thousands of words just to find a particular clause is time better spent elsewhere.

Legal teams are often overburdened with this type of administrative task when they should be focusing on litigation, compliance and risk mitigation.
With OCR technology and the power of automation, a global search function will allow you to search from any area of the platform for key dates, clauses and contracts. The results will be returned and categorised by contract, vendor or file name.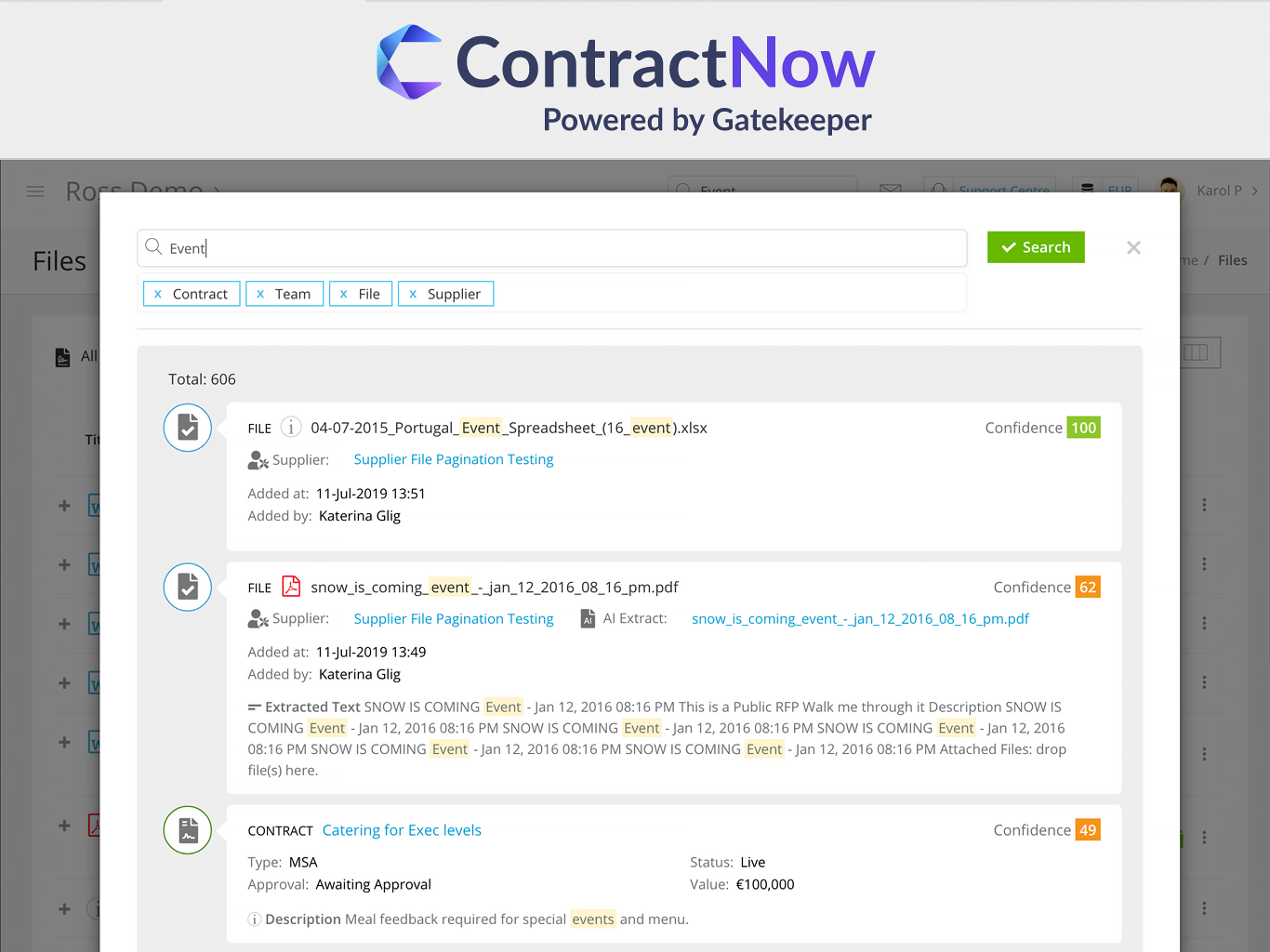 Global search functionality within ContractNow
With this search functionality, you can easily access the contracts you are looking for without scrolling through dozens of irrelevant agreements. This will also save stakeholders hours that they would typically spend searching through inboxes, spreadsheets and filing cabinets for particular contracts.
3. Is there an automated alert feature?
Being aware of upcoming events related to each agreement is vital for proper contract management. Alerts that are triggered by key dates such as renewals, expiration and reviews can keep your stakeholders one step ahead. By taking action around key dates, your business can respond proactively to upcoming events which helps it to:
Protect the bottom line from unnecessary or unwanted spend
Maintain compliance at all times by ensuring documentation is kept up-to-date
Complete reviews in a timely manner to keep contracts progressing
A management system with automated alert functionality will remind stakeholders of important dates and actions required. This will significantly reduce the risk of running into compliance issues or business disruption.
4. Is the dashboard user-friendly?
If your business has been using manual approaches and a combination of different systems for a long time, the suggestion of a new system may be met with some reluctance.
Contract management software should be easy for users to adopt. If your users log into your system and find that they can't easily navigate through its features, it is not serving you well.
Contract management software should have intuitive user experiences, supported with visual dashboards that are easy to understand.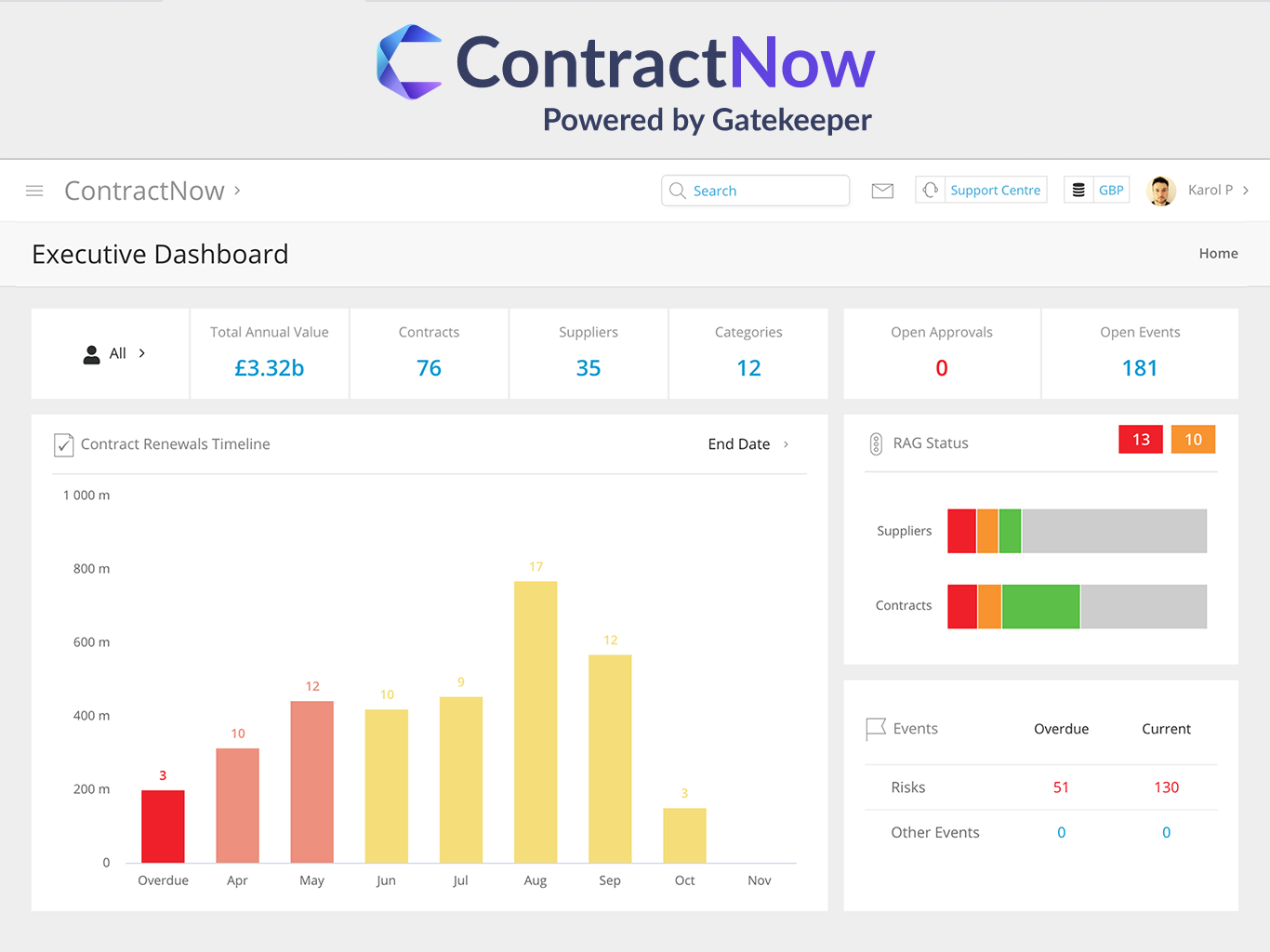 See all your contract information in one visual dashboard
Stakeholders should be able to see important information at a glance. This will help the proactively manage contracts, plan their workload accordingly and keep everyone in the organisation on the same page.
5. Does it provide an eSignature feature?
Signing contract documents has always been a part of the contract management cycle that slows it down considerably. This is because signing contracts the traditional way such as through the mail, pen and paper methods and even email creates delays.
Signing contracts electronically makes the entire process more efficient. eSignatures are legally-binding, secure and easier to obtain."

With unlimited eSign licences, agreements can be signed by internal and external parties on any device, from any location. They will be securely stored against the master record in the contract repository, improving access and visibility.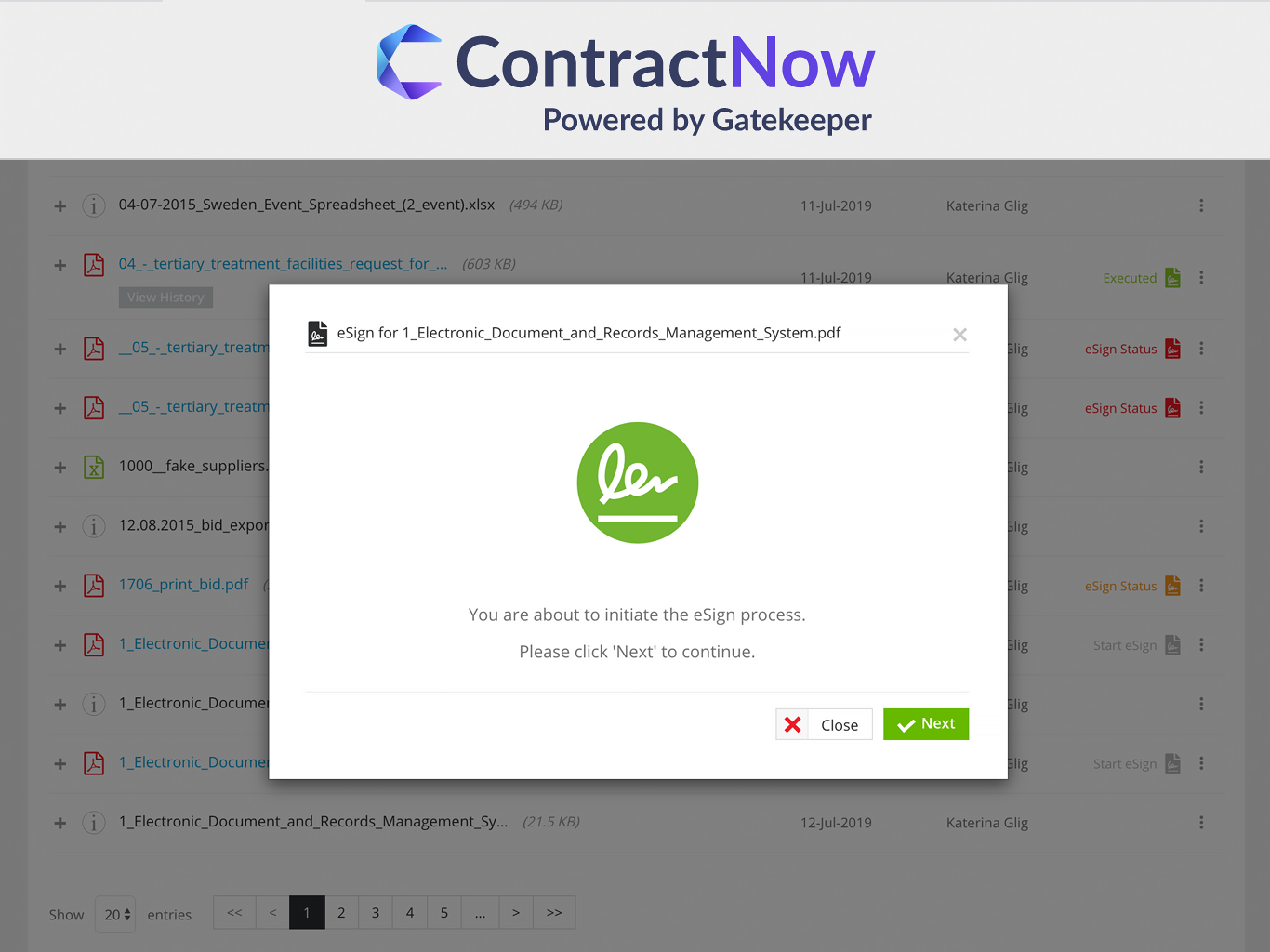 eSignatures from ContractNow
Contracts that are signed electronically also come with a complete and defendable history. It captures the name, date and time of when the contract was signed. This makes it easier to complete reviews, be audit ready and confirm the date of an agreement if a dispute occurs.
5. Does the system include reporting capabilities?
Contract management software can help you to drill down into every stage of the lifecycle. Reporting capabilities can highlight the good and the bad, making it easy to figure out which contracts are performing as expected and which need corrective action.

The type of reports a contract management solution should offer will need to align with your business but reports for spend, risk and performance are useful for all types of organisations.
6. Does it include contract templates and a clause library?
Creating contracts is a given, including MSAs and NDAs. These documents might be simple to make, but considering the volume of contracts you are working on, these low-value tasks may become repetitive. Contract management software should aid this process by automating and streamlining these activities.
Choose a contract management system that offers best practice contract templates. This feature will allow for the creation of contracts such as MSAs and NDAs without starting from scratch each time. Rather than spending time on repetitive work, teams can focus on strategic areas instead.
Another essential feature is the pre-approved boilerplate clause library. This feature allows teams to create and maintain a library of frequently used clauses so that they can quickly insert them anytime during the contract creation process. It provides for uniformity and standardisation, making compliance easier to maintain.
7. Does It use artificial intelligence?
Artificial intelligence is helpful especially when it comes to automating tasks and processes that take too much time and resources. Artificial intelligence can support activities such as extracting key contract metadata and speeding up the activity each time.
When metadata is extracted manually, businesses are left vulnerable to human error. With the use of automation and AI, businesses can upload PDFs or scanned contracts and auto-extract key metadata and clauses - creating greater accuracy of its records.
8. Does the system support automated workflows?
Bottlenecks can be caused when there is a lack of visibility of a contract's progress. This often results from manual processes and teams that aren't collaborating effectively.
These delays increase time-to-contract, creates frustrations between departments and can even hinder business continuity. Therefore you should look for contract management software that automates and visualises your business's processes."

By mapping out all of your contract management processes in a Kanban-style workflow - no matter how complex - all relevant stakeholders will be able to view the progress of the contract.
This includes who the contract is sitting with, what actions need to be taken and - depending on the maturity of the solution - how long the contract has been in what stage.
As highlighted previously, the software should automatically send reminders and prompts to the necessary people to take necessary action. This way, delays the contract management process will be minimised as all parties can take a more proactive approach.
With automated notifications, you can create automatic and flexible workflows to direct the actions of everyone involved in managing the contract lifecycle. It makes work easier for everyone and saves business time.
Some FAQs About Contract Management Software


What is contract management software?
Contract management software is a dedicated system that helps businesses to manage a contract's lifecycle end-to-end. It allows businesses to increase contract visibility via a central repository and provides a way for all stakeholders to access a single source of truth about their portfolio.
What are the benefits of contract management software?
The benefits of a good contract management software is that it will save businesses time, maximise the value of agreements, minimise contract risk and automate manual, repetitive tasks.
What is the best contract management system for my business?
The perfect contract management system for your business depends on its requirements. There are, however, essential features that your contract management software must possess such as a contract repository, automatic notifications and search functionality.
Wrap Up
Creating and managing contracts isn't always an easy process. When manual approaches are taken, the possibility of human errors and resource heavy tasks are always present.
Contract management software should eliminate these issues through automation, centralisation and visibility.
If you're interested in a contract management solution that offers the features discussed in this article, or want to know more about how technology can support your processes, get in touch today.