Contract lifecycle management can quickly become frustrating if you're managing everything by paper and pen. Depending on the volume of contracts you have - and the level of detail they contain - it can be easy to misplace agreements, lose track of information and keep on top of key dates.
Implementing a contract management system can resolve many of the issues created by manually managing paper contracts as it enables you to create, store, track and automate many of your contracting processes.
But the big question is: is it a good idea to load all your legacy paper contracts into a contract management system? This article will look at the advantages and disadvantages, if any, of going paperless when it comes to contract management.
Is Going Paperless A Good Idea?
By digitising your legacy contracts into a dedicated platform, you can centralise all of your agreements. This saves you hours usually spent searching for documents or information, it improves visibility of your entire portfolio and keeps sensitive data secure.
However, loading all your existing paper agreements into a contract management system requires time and resources - especially if you're handling large volumes. However, the right solution can automate and streamline the process of uploading your paper contracts.
How to automate the process of uploading legacy contracts
A combination of automation and artificial intelligence can save your business hours of time when uploading legacy contracts. Rather than manually inputting data, which is time consuming and leaves your business vulnerable to human error, the right contract management system will let you upload a PDF or scanned copy before automatically extracting key metadata and clauses.
Using artificial intelligence to capture metadata means that you can avoid data duplication, inaccuracies and you can digitise handwritten text that may be difficult to read."

Even if your contracts include complex tables and forms, these can be extracted and uploaded too without manual input - unless you opt to edit information afterwards. Going paperless has never been easier - so let's take a look at some further reasons you should upload all your legacy contracts into a contract management solution.
1. Achieve Efficient Contract Lifecycle Management
Having some of your contracts on paper and the rest in a different system means that you have a fragmented approach to contract lifecycle management. Fragmented processes can lead to delays, increased contract risk and an inability to effectively track your contracts.
Uploading all of your legacy contracts into a contract management system, rather than just some of them, streamlines and standardises the processes you have in place. All stakeholders can work from the same, accurate information and have confidence that they are working from the most up-to-date, complete record.
2. All Your Contracts Should Be In a Centralised Repository
A contract management system, at its very basic, is a central repository for all your contracts. It should provide a single source of truth of your portfolio and be securely accessible for all contract stakeholders.
Storing relevant information and documentation such as compliance certificates against the master record is simplified. Your contracts, metadata, key dates and important clauses are easily searchable and viewable when uploaded to a contract management system. This saves time, prevents fragmentation and allows you to prioritise the most important contracts when action is required.
Manually managing paper contracts, in comparison, means that you will face difficulty when trying to obtain an accurate snapshot of your portfolio status. Finding all the relevant documents is likely to be an arduous task, with different contracts being stored in different places. And maintaining compliance becomes challenging when you're having to spend time manually tracking expiry and renewal dates.
Contract management software allows you to search across all data-points, whether that's contract name, date or clause. You can search every document that has been digitised and the results are returned in easily viewable categories.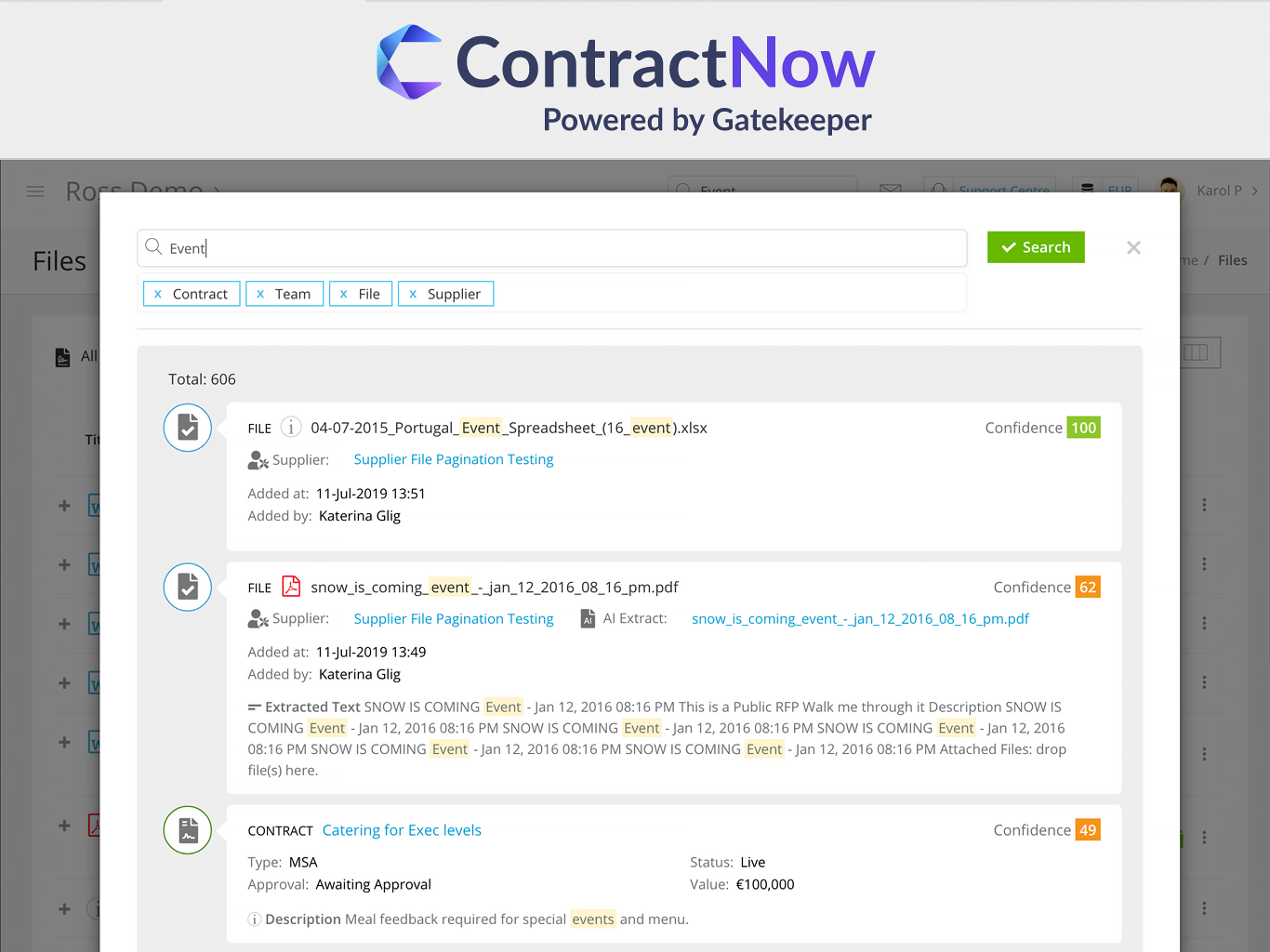 Easily search and find digital contracts within a centralised repository
3. Remote Access To Contracts Creates Efficiency
One significant advantage of a cloud-based contract management system is that it gives secure, remote access to relevant and approved contract stakeholders. Legal and Procurement teams can access critical information whenever they need it, from wherever they are - and whatever device they are using.
This simply isn't possible with paper-based contracts. If stakeholders are away from the office and can't access the physical storage location of the agreements, delays will naturally occur and potentially increase time-to-contract. This can cause frustrations internally and externally, creating tension between all involved parties.
By uploading your legacy contracts into a cloud-based contract management system, you improve accessibility. Approved teams can get the information they need with a few clicks of a button which will drive greater efficiencies throughout the entire lifecycle process.
4. Digitised Contracts Are More Secure
We all know how easy it is for everything to go wrong while using paper documents. A spilled cup of coffee, a careless employee, or even a single security breach, and you could lose, damage, or misfile important contract documents. It is also easier for unauthorised personnel to gain access to sensitive information contained within the agreements.
These instances of poor security, and potential non-compliance can negatively impact your business. Customers may lose trust in you, regulators may fine you and you may find it harder to enter agreements with other parties in the future due to a damaged reputation."

By uploading all your paper contracts into a secure contract management system, your agreements - and all the information they contain - will be stored securely.
You can set role-based permissions and control exactly who has access to which contracts. The right solution will also provide a defensible and auditable history of anyone who has made changes to a contract. This includes name, date and time stamps.
5. Improve version control
Whether you're in the negotiation phase, updating contract information and adding new documents to a main record, it's likely that you have multiple versions of any single agreement if you've relied on paper-based processes in the past.
If you're creating new versions via paper and pen, it can be difficult to keep track of which version is the most up-to-date, which changes have been implemented and which of the key dates are the ones that need to be abided by.
If you're using post-it notes, creating brand new contracts each time or relying on handwritten notes that are stored separately to the original agreement, keeping versioning under control may feel impossible."

A contract management system can streamline this entire process. By using a dedicated solution, you can easily track all versions and all comments against the contract documents and contract records, as they are stored automatically in the contract repository.
7. Easily Archive Expired Contracts
Eventually, the lifecycle of a contract will come to an end, and you will have to archive the expired paperwork. If you still have your contracts on paper this process can become time-consuming, the amount of paper you have simply adds up and you're at risk of not knowing which contracts are expired if you're not filing them correctly.
If you want to move your archived contracts to a different location you will have to find the paperwork from your filing system, ensure that all documents are intact, and if you do not have an internal storage space, you have to handle the transportation to the storage site. And what happens when you need to retrieve these documents again? You have to send for the records to be manually retrieved.
This is a long and strenuous process, and there are many ways things could go wrong. So why not move all contracts to a digital platform where you can quickly archive contract documents by clicking a button?"

When you archive these contracts, they are no longer part of the active lifecycles you are working on. But they are still within reach as you can retrieve them with the click of a button. And the best thing about this is that most contract management systems allow you to load your physically archived documents onto them. It saves you time, money and promotes efficiency.
FAQs


What Is Contract Lifecycle Management?
Contract lifecycle management (CLM) automates and streamlines processes at every stage of a contract's lifecycle. Whether you're initiating, executing or reviewing a contract, this approach allows you to create greater efficiencies that maximise time savings and minimises costs.
Why Do I Need A Contract Management System?
A contract management system provides you with a powerhouse of tools to centralise your contracts, maintain compliance, increase visibility of your portfolio and streamline internal processes.
Is A Digital Contract Management System Better Than Paper Contracts?
Digitally transforming traditional methods of contract management might seem like a hassle. But with all the advantages a contract management system offers, such as time savings, visibility and centralisation, there is no doubt a dedicated solution makes your contract lifecycle management processes easier.
Are Contract Management Systems Secure?
Contract management systems can offer security, as long as you choose a system that has the right certificates. Look for a solution that is ISO 27001 Security Certified and ISO 9001 Quality Certified. Also look for a solution that offers Single Sign On and data encryption in transit and at rest.
Final Words
Having read all the reasons for digitising your legacy contracts, should all your paper contracts be loaded into a contract management system? The answer is an unequivocal yes.
When all your contracts are digitised, you have a strong foundation for your business processes, and you can be sure that you are managing your contracts in the most efficient way possible.
If you're ready to start uploading your paper contracts into a secure, digital and centralised repository, get in touch today.