According to The Journal of Contract Management, 71% of businesses can't locate at least 10% of their contracts. This can leave businesses vulnerable to contract risk, unwanted auto-renewals and non-compliance. If this scenario sounds familiar and you're losing hours to searching for critical information, your business could benefit from implementing a document repository.
A document repository provides a means for your business to centralise its contracts and increase overall visibility. Having a single location where all key contracts are stored and can be securely accessed by relevant stakeholders unlocks multiple benefits including:
Time savings as hours spent locating documents are minimised
The ability to stay ahead of contracts including their key dates
Confidence in data accuracy as a result of building a single source of truth
Is a document repository right for your business?
Every business, regardless of size and complexity, will benefit from creating or implementing a document repository. If your business is scaling at pace, heavily regulated or exists across multiple locations, a document repository can support the effectiveness and compliance of your day-to-day operations.
Your starting point for a document repository will differ based on the level of contract management maturity within your organisation."

If your business currently stores its contracts in shared drives, inboxes and filing cabinets, creating a document repository via Excel spreadsheets would be a sensible first step.
Excel is accessible, easy-to-use and a great way to start getting your contracts in order. To help you get started with this type of document repository, we've created some free Excel templates.
However if you're already using Excel and your contract portfolio is quickly growing, and growing out of hand, it's time to consider implementing contract management software built around a document repository.
Why choose CLM software with a document repository?
Contract Lifecycle Management Software that has been built around a document repository goes further than the visibility offered by Excel.
Combining a repository, powerful automation tools and optical search recognition (OCR), CLM software also gives you the ability to proactively manage contracts and stay one step ahead of any changes.

Below, we take a look at how CLM software with a document repository allows businesses to boost contract visibility.
1. Centralise legacy documents and seamlessly add new records
A document repository gives your business a single source of truth. It prevents data fragmentation and duplication while ensuring businesses only work with up-to-date information. As your contract portfolio grows in size and complexity, you need a document repository that can scale alongside it.
Whether you need to review historical records or keep ahead of upcoming events, a document repository provides immediate and secure visibility of the information you need.

ContractNow allows you to add unlimited contracts and documents, so your business can continue to grow without friction. This unlimited feature means you can migrate legacy contracts, add new contracts and keep everything stored in one central location.
As your contract portfolio continues to grow, there is no need to lose sight of information related to risk or renewals. Contract visibility gives you control and puts you in a position of proactivity.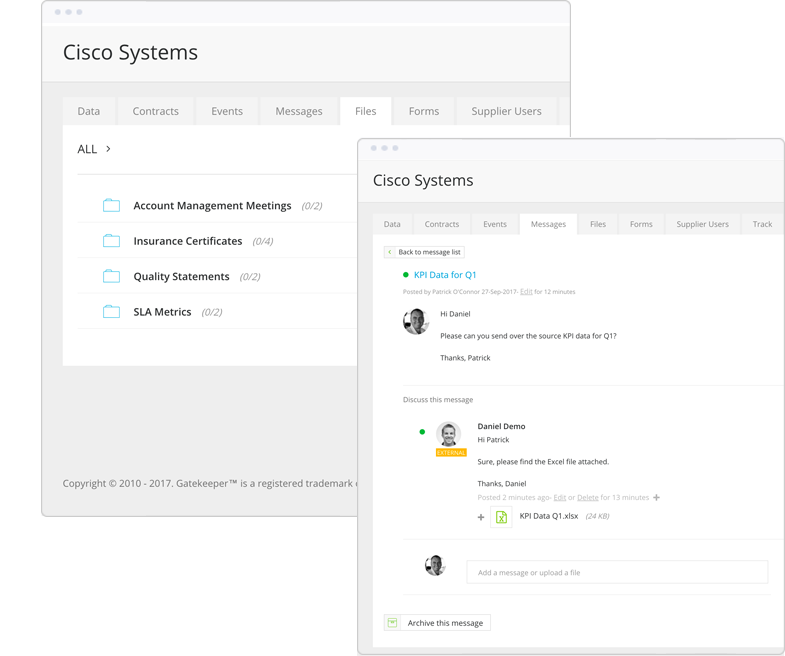 See everything in one place with a document repository
2. Automatically extract key dates and metadata to digitise records
Developing a document repository may seem like an overwhelming task for Contract Managers responsible for extracting and entering the relevant information. Recording key dates, named stakeholders and contract values into a dedicated location can be a time consuming task, especially if contracts are complex or there is a large quantity.
Contract administration, such as uploading data, can often be deprioritised in favour of higher-value, strategic tasks.
But when key dates and contract metadata are left unattended, contracts can auto-renew and compliance documents expire without anyone's knowledge. Without the ability to easily track your contracts via a document repository, you could face legal and financial consequences.
A document repository that is powered by automation enhances visibility with accuracy, giving stakeholders confidence that they are working with up-to-date information.'

ContractNow's AI Extract Engine allows you to upload PDFs and scanned documents and automatically extract the key information.
This reduces contract administration, saves time and increases data accuracy. Less time and resource is spent on manually recording metadata so more time can be spent effectively managing each stage of the lifecycle.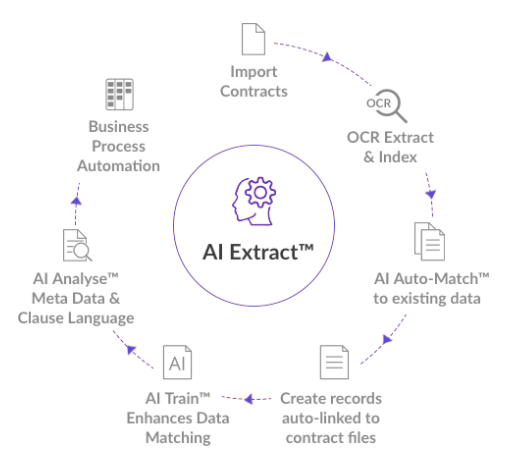 Easily extract and upload metadata with ContractNow
3. Simplify contract tracking with alerts and reminders
Without a document repository in place, it can be difficult to obtain visibility of:
What stage each contract is at in its lifecycle
What actions are required to progress the contract
Whether or not a contract review is due
If a contract is coming up for renewal
Your portfolio is an ever-changing landscape, so completing infrequent, periodic contract reviews will put your business at a disadvantage. However, with so many competing priorities it may be hard to find the time to continuously monitor your contracts - especially if they are all over the place.
A document repository that triggers automated notifications based on centralised records and key dates will improve your contract tracking processes, allowing you to to act ahead of time.'

When notifications are automatically sent to stakeholders, visibility of events such as risks, renewals and reviews is brought to the forefront without the requirement for additional effort.
Businesses can focus on their strategic objectives, knowing that critical events that require action won't slip through the net. Focus can be dedicated to what matters, exactly when it matters.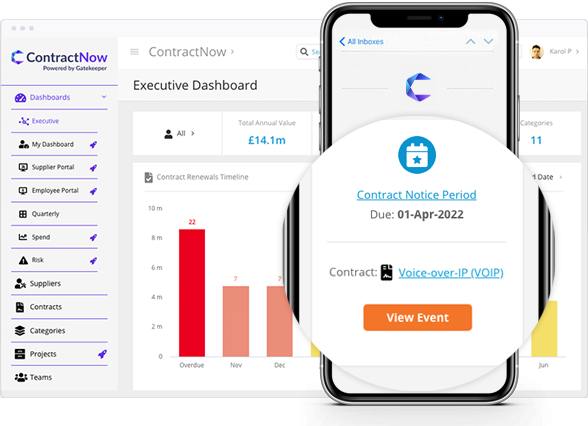 Make contract tracking easy with automatic reminders
4. Easily search for contracts and clauses
Sometimes stakeholders need to dig deeper than the contract itself. They need the ability to examine clauses and specific language, without spending hours reading lengthy contracts as well as their terms and conditions. Quick visibility of this information is key during events such as negotiations or resolving disputes.
A document repository should offer your business more than a storage solution. It should offer you visibility and instant access to granular detail, saving hours of searching for items.

ContractNow provides a powerful way to search for information - whether you need to find a contract, a counterparty or a file name. You can also search for specific contract terminology, helpful in case of events such as Force Majeure. You can complete this search from anywhere in the platform for every document.
5. Build a complete audit trail of every action taken
It's not enough just to see the contract. You also need visibility of who has accessed the contract, who has progressed it, when and who the next action currently sits with.
This level of contract visibility naturally gives way to accountability for contract outcomes. Visibility across your business, as well as your portfolio, keeps lines of communication open.
Defensible audit trails give you peace of mind when it comes to compliance, external assessments and contract ownership.'

ContractNow provides an audit trail that includes name, time and date stamps so all teams have shared visibility of the history of each contract. Everything is kept in one place, so there's no need to spend hours searching through inboxes or shared drives to track a contract.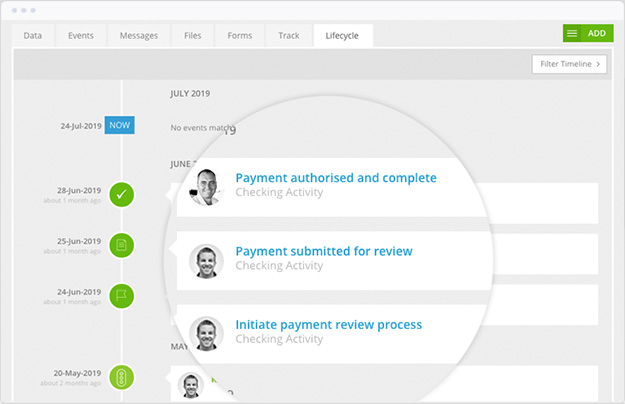 See every action taken with complete and defensible audit trails
Wrap Up
Whatever the maturity, size or complexity of your business, a document repository can make life easier for all teams who are involved with its contracts.
Storing your contracts in a centralised, secure location creates an accurate and single source of truth. You can access the information you need, when you need it and trust in the version you're working from.
If you're ready to get started with a document repository, or are looking to make improvements on the one you're already using, speak to one of our specialists today. If you're ready to enhance visibility with powerful automation tools, book your demo now.