Contract management challenges are created through a lack of standardised processes, manual management of data and uncoordinated teams.
Each lifecycle - from initiation to negotiation and execution - has its own set of requirements while poor post-signature processes can expose businesses to increased risk and non-compliance with industry regulations and internal policies. This is especially true where people, processes and data are fragmented.
Some businesses may find themselves adding to their tech-stack to compensate for different ways of working and to create new options for effective management. However, this increases complexity rather than resolving any issues. Below, we explore some common contract lifecycle management challenges and how opting for an all-in-one CLM solution can help to resolve them.
Data fragmentation leading to inefficiency
Data fragmentation occurs as a result of contracts being stored in multiple locations - a common symptom within businesses that are still using manual processes. Agreements are typically managed through a combination of Excel, emails and shared drives.
When it comes to checking anything to do with the agreement - such as a key date, a particular clause or simply trying to find a contact owner's name - stakeholders can find themselves spending hours searching for what they need."

Another challenge caused by data fragmentation is the potential for each stakeholder to have a different version of the same agreement kept in their preferred location.
This can stem from poor collaboration and result in individuals making business decisions based on outdated or inaccurate information - both of which can have a negative impact on contract expectations and outcomes. Working with the correct version is critical to business success.
Time spent trying to find the right version isn't limited to the stakeholder carrying out the search, either. In businesses with manual processes, a lot of the burden can fall to Legal teams.
Usually seen as the custodians of contracts, they experience disruptions from other teams who request information, reviews and status updates. Their time spent locating contracts for other teams is time better spent on strategic activities such as resolving litigation issues and maintaining contract compliance.
Data fragmentation slows teams down, makes work harder and causes friction."

Poor visibility leading to increased contract risk
Poor contract visibility is linked directly to data fragmentation and manual processes. When your business doesn't know where its contracts are, who agreements have been made with or which key events are coming up, contract risk becomes inherently high.
Key dates including expirations, clauses such as Force Majeure and contract obligations shouldn't be buried away where no-one can see them. Disruption, non-compliance and poor performance can all occur without anyone's knowledge - threatening to damage your business's operations and reputation.
Visibility isn't a passive benefit. It's the catalyst that allows your business to be proactive. With the right information at their fingertips, your stakeholders can adjust strategies in real-time to ensure that they are getting the maximum value from agreements whilst minimising risk."

Visibility needs to be organisation-wide and not just tied with specific stakeholders such as the Legal team. All stakeholders should share accurate knowledge of the contract, what stage it's in the lifecycle and any actions that still need to take place. Without this shared understanding, your business won't be able to build to mature collaborative processes that are needed for effective contract management.
Failure to track key dates leading to missed contract renewals
Where manual processes are used, individuals are given responsibility for inputting key dates into a spreadsheet or shared area. But the same individual may not be tasked with retrospectively checking those dates and without ownership or accountability, the extracted dates may not be checked at all. This can put businesses in a vulnerable position.
There are a number of key dates that should be extracted from agreements - but their renewal dates and their expiry dates are some of the most important.
If such dates are buried in manual storage and pass by unknown, your business is likely to end up paying increased costs that are avoidable - sometimes for services they no longer need."

Contract renewals are supposed to be an opportunity for your business to review the performance of existing agreements. But when key dates aren't made actionable and timely reviews aren't adhered to, your business closes the window of availability when it comes to renegotiating better terms or consolidating contracts that aren't delivering the expected outcomes.
How to overcome contract management lifecycle challenges
The challenges outlined above are most common within businesses that use manual processes or who have other low-maturity approaches in place. In order to overcome these challenges, your business should look to introduce centralisation and automation into its processes. This can be done by implementing contract management software such as ContractNow. Let's see how.
Address data fragmentation and restore visibility with a centralised searchable repository
Contract lifecycle management challenges are often caused when contracts are stored everywhere and nowhere. When agreements are hidden from sight, so are the risks they may be exposing your business too. When stakeholders are focused on finding the information they need, they cannot be focused on minimising this exposure or mitigating any issues already at play.
ContractNow offers a contract repository for your business to store its contracts. With space for unlimited documents and unlimited agreements, stakeholders don't need to find a workaround or a more convenient method of storage. Enhanced with data-driven dashboards, each stakeholder can see the contracts they own and the upcoming events that will occur throughout the entire portfolio."

The repository is also completely searchable. Powered with OCR technology, stakeholders can quickly locate dates, clauses, owners, names and other information from wherever they are in the platform. Stakeholders no longer have to spend time deciphering which record is the most recent version as all actions and changes are recorded, time stamped and recorded against a name.
Contract Now's AI Extract engine allows your business to upload contracts in PDF and written form, extracts all key metadata such as dates and clauses and stores it in the repository. It de-duplicates data, understands complex tables and forms and can accurately extract handwritten text.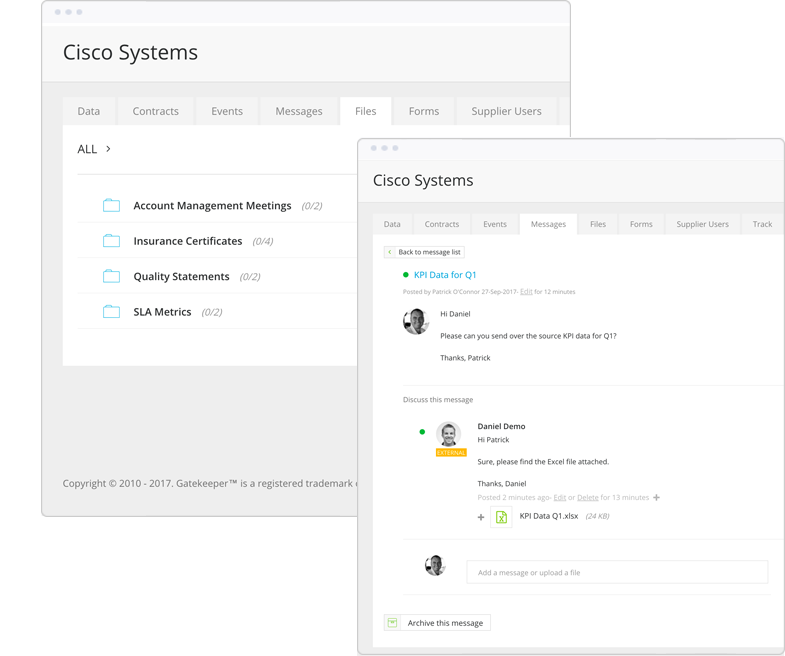 See everything in one place with a contract repository
Take early action with automated notifications
Overcome CLM challenges related to poor contract tracking by staying one step ahead, rather than trying to keep pace from behind. Whether you need to review a contract before renewal, ask a supplier to update their compliance certificates or need a reminder that an agreement needs your attention, automated notification can be a gamechanger.
ContractNow uses extracted metadata such as key dates to trigger specific alerts that are sent directly to stakeholders. Information becomes a key part of your strategic endeavours, rather than something that is stored away and only thought of every now and again."

With automated notifications your business can take early remedial measures, mitigate risk and always be in a position to improve contract outcomes. Automated notifications are particularly useful for renewal management.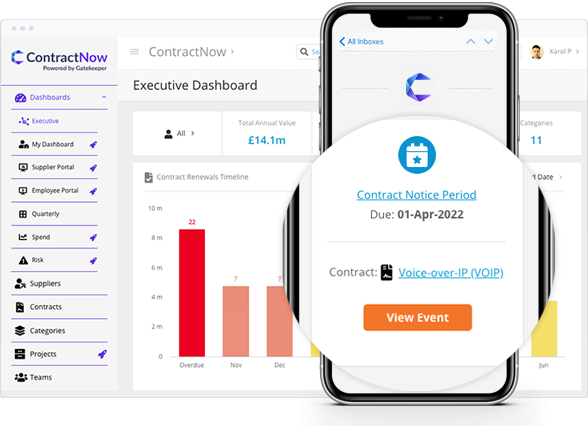 Never miss another renewal thanks to automated notifications
When stakeholders are alerted ahead of the time, they are able to complete an in-depth review of outcomes and performances. This can inform decisions whether to renew, consolidate or renegotiate any terms. It also prevents contracts from auto-renewing - protecting your business's bottom line.
Wrap Up
Contract lifecycle management challenges can impact businesses in different ways and have consequences that vary in severity. However, those businesses relying on manual approaches to contract management are most susceptible to difficulties. If poor visibility, inaccurate data and missed renewals are symptoms within your organisation, it's time to mature your processes.
CLM software such as ContractNow can streamline your processes, automate manual tasks and centralise your contracts. Visibility, control and proactivity give your business the best opportunity to achieve maximum value from its agreements. If you're ready to take control of your portfolio and overcome internal challenges, contact us today.